SpongeBob Squarepants Season 12 DVD Giveaway!
Ah SpongeBob Squarepants, everyone's favorite yellow sponge has his entire twelfth season ready for us to watch at home! This 3 disc DVD collection has all of your faves from Season 12, along with a special feature of SpongeBob Appreciation Day: Pathy's Beach Bash!!
Can't remember what episodes were part of Season 12? No worries, I have a list for you!
Disc 1:
FarmerBob / Gary & Spot
The Nitwitting / The Ballad of Filthy Muck
The Krusty Slammer / Pineapple RV
Gary's Got Legs / King Plankton
Plankton's Old Chum / Stormy Weather
Swamp Mates / One Trick Sponge
The Krusty Bucket / Squid's on a Bus
Sandy's Nutty Nieces / Insecurity Guards
Broken Alarm / Karen's Baby
Disc 2:
Shell Games / Senior Discount
Mind the Gap / Dirty Bubble Returns
Jolly Lodgers / Biddy Sitting
SpongeBob's Big Birthday Blowout
SpongeBob in RandomLand / SpongeBob's Bad Habit
Handemonium / Breakin'
Boss for a Day / The Goofy Newbie
The Ghost of Plankton / My Two Krabses
Disc 3:
Knock, Knock Who's There? / Pat Hearts Squid
Lighthouse Louie / Hiccup Plague
A Cabin in the Kelp / The Hankering
Who R Zoo?
Plankton's Intern / Patrick's Tantrum
BubbleBass's Tab / Kooky Cooks
Escape from Beneath Glove World
Krusty Koncessionaires / Dream Hoppers
Spongebob Squarepants is one of my son's favorite characters, and I have been watching Spongebob since my bonus baby was a little one, so you know I am all for sitting down with my kids and taking in a few laughs and crazy shenanigans with the SpongeBob crew! Plus, I have great news for those of you that are SpongeBob fans…I am giving away The Complete Season 12 of SpongeBob Squarepants to one of my absolutely amazing readers…that's y'all!!
All you have to do is scroll down and enter for your chance to win, and in the meantime, why not do a few SpongeBob inspired crafts? How about a couple of popcorn boxes, because what's movie night without popcorn?! Just click on the picture for step by step instructions!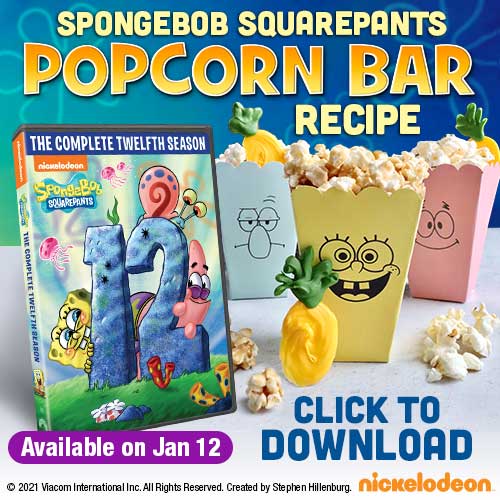 And now for the moment, you have all been waiting for…THE GIVEAWAY!!
SpongeBob Squarepants Season 12 DVD Giveaway